Winner of the Voluntary Application Award 2020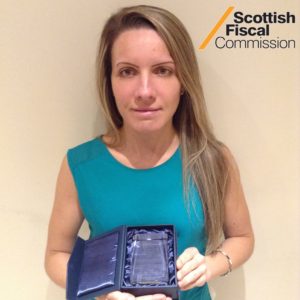 "I'm delighted to accept this award on behalf of the team at the Scottish Fiscal Commission. Our stakeholders and ultimately the public depend on the Commission to uphold the highest standards of statistical practice as a matter of course. We're grateful to the Royal Statistical Society and the Office for Statistics Regulation for the opportunity to have our work endorsed in this way."
Silvia Palombi, Senior Economic Analyst
Who are the Scottish Fiscal Commission?
We are Scotland's independent fiscal institution (IFI). The Commission was created to serve the needs of increased fiscal devolution in Scotland. We are a young organisation, established as a statutory body in 2017. Our official economic and fiscal forecasts are used by the Scottish Government to formulate the Budget, the Scottish Parliament to scrutinise the Budget, and stakeholders and the media to inform public debate. We are not considered an Official Statistics producer, but we have made an active choice to apply the Code of Practice for Statistics wherever possible.
Applying the code
Since our creation, we have adhered to the Organisation for Economic Co-operation and Development (OECD) Principles for IFIs, so we were already following the majority of the Code principles. But in March 2018, we published a Statement setting out our ongoing commitment to voluntarily apply the Code. It is thanks to this ongoing commitment that, while being in operation for only three years, we have already developed a reputation – not just in Scotland but also at UK level and internationally – for providing independent and credible forecasts that enhance public confidence.
Trustworthiness, Quality and Value
We are transparent, open and honest about what we do, describing methods and judgements that underpin our models and any limitations and risks to our forecasts. We also took steps to demonstrate our independence by pre-announcing Forthcoming Publications up to a year ahead, so that users know when to expect our outputs, and this has encouraged trust in the value of our outputs. We also ensure that all data are released in a reusable format, and we publish our approach to corrections and revisions. Building this trust is essential to meet our users' need for independent scrutiny of the Government's budget and to inform debate. You can find out more about our approach in this blog.
We strive to have the best possible information and evidence available to us by regularly interacting with data providers and through our annual Statement of Data Needs (SDN) publication, where we outline our statistical requirements and highlight areas for improvement.
We also engage with users through a number of channels including Twitter, our website and newsletter, external events we hold throughout the year, and additional papers on issues of relevance to users such as policy costings.
Our success in developing a reputation for delivering independent and credible forecasts was recognised by the OECD in last year's independent review. They stated "the SFC has become a voice of authority, and is credited with enriching the fiscal policy debate in Scotland" and "stakeholders across the board praise the clarity and accessibility of its reports".